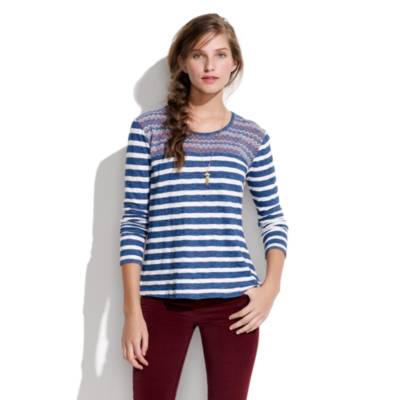 ATTAINABLE: Madewell Indigo Ink Tee in Fair Isle
www.madewell.com; $49.50
I am a big, big fan of basics. Poke through my dresser and closet and you'll come across countless cotton tees, simple cardigans, and pairs of skinny jeans. But I like each piece to have a little something about it to make it special -- whether it be a touch of embellishment at the neck of a tee or a pretty print on a sweater, the details are what matter. I love how the Fair Isle print at the top of this long-sleeved Madewell top makes it feel so fresh and unique -- separating it from the several other long-sleeved striped tops in my drawers.
Fashion and art have so many similarities, but I often get so lost in the craftsmanship of couture pieces that I forget to look to everyday wear for gallery-worthy inspiration. Opening Ceremony fuses these forms of expression beautifully, creating pieces that are truly works of art from pattern to texture. The fall and holiday collections are particularly stunning, full of rich hues and fabrics that have me craving everything offered this season.
Opening Ceremony Fair Isle Jacquard Sweater Dress
www.saks.com; $520
Another fresh take on Fair Isle prints, this sweater dress is simply stunning. I love how the chevron pattern has been incorporated, and the oatmeal hue in combination with the easy shape makes me want to curl up next to a roaring fire in this dress to read a book.
Opening Ceremony Crepe Tee with Collar
www.shopbop.com; $285
In the creamiest of white shades with a touch of the oxblood that I've been adoring all season, this simple blouse is the epitome of sophistication. I love the narrow keyhole, flawless construction, and, of course, the sweet Peter Pan-style collar. While I love it styled with this gorgeous skirt, I'm certain that a pair of dark jeans would do it justice as well.
Opening Ceremony Drop Waist T-Shirt Dress
www.shopbop.com; $450
In a gorgeous, perfect-for-autumn rust hue, the print and texture rule this gorgeous frock. The jacquard finish and bold pattern add a level of visual interest, while the drop waist silhouette and ruffled hem are feminine and perfectly on-trend for fall.
Opening Ceremony OC NY Bag
www.shopbop.com; $750
An investment piece for sure, this buttery leather satchel is the prettiest of brown hues. It's incredibly versatile, perfectly-structured, and just the right size for everyday wear. The construction is simply stunning, and I'm convinced that this gorgeous bag will permeate my dreams for weeks to come.
What are YOU obsessed with right now?
xo Josie
Thanks to Madewell, Saks, and Shopbop for the photos.