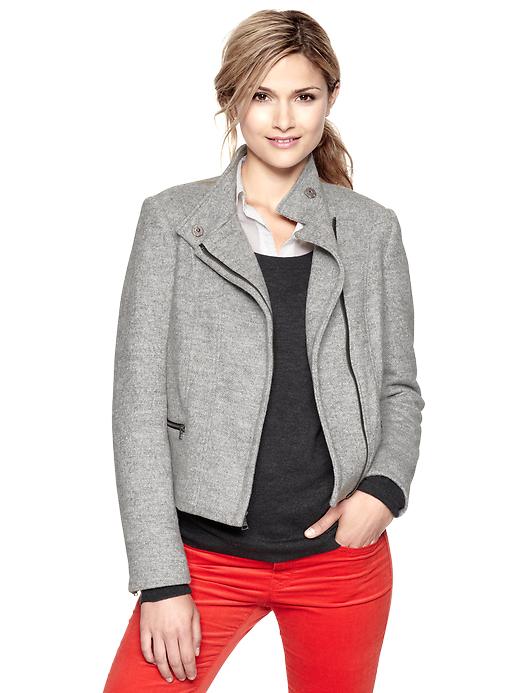 ATTAINABLE: Gap Tweed Moto Jacket
www.gap.com; $118
I have a great love affair with motorcycle jackets. There's something about them that's just so wrong that it's right. This darling little tweed one from Gap is the perfect solution to midwestern fall days, where weather is ambiguous and appropriate dress is subjective. I love the soft, smoky gray hue and the zipper details, and I'm convinced that this would be adorable tossed over my favorite fall dresses and perfect with jeans and boots.
The drop waist dress is hardly a new idea: originating with the famed flappers in the 1920s, this silhouette has been adorning women with flouncy skirts for decades. I couldn't be happier that the shape is hot for fall and can't wait to pick one up for myself. Paired with tights, a blazer, and pumps, this look is chic for the office -- but slip out of the jacket and layer on a few long necklaces and you're ready for a fabulous evening out. So let's take a cue from the Josephine Bakers and Zelda Fitzgeralds of the past and have a little fun.
DEAL: Hive & Honey Drop Waist Dress
www.piperlime.com; $59
It doesn't get much more flirty and feminine than this darling little frock. I love that it has a drop waist but still ties in a subtle hint of the peplum trend due to its ruffled layers. I high neckline and simple bodice keep the look sleek, especially when paired with opaque tights and a killer pair of black booties.
EXTRAVAGANCE: Whistles Isabella Drop Waist Dress
www.asos.com; $219.88
There's so much to love about this dress: the simple silhouette, the slightly flouncy skirt, the ladylike 3/4-length sleeves and perfect notches at the ends, and, of course, the firey red shade that's not only perfect for autumn but sure to make you stand out in a crowd. This would be so charming with bare legs and a pair of wedge desert booties but as days get cooler, would be fantastic with tights and a sleek pair of riding boots.
DEAL: Dorothy Perkins Jacquard Drop Waist Dress
www.dorothyperkins.com; sale (now) $44
Possibly my favorite of the bunch, this darling jacquard dress is also the least expensive -- which is always an excellent bonus. I love that the fabric looks tweedy enough to be office-appropriate with a well-cut black blazer but up-close is shimmery enough to make for the perfect party dress -- just add a statement necklace and sleek, shimmery clutch.
EXTRAVAGANCE: Haute Hippie Drop Waist Motif Hem Dress
www.shopbop.com; $375
Yes, yes, yes. This dress embodies everything that I love about Haute Hippie: it's easy, pretty, feminine, and vintage-inspired -- of course. The gathered shoulders and lace hem are absolutely gorgeous, and I love the midnight-blue hue. This would be amazing with a chunky cable-knit sweater, tights, and booties for a little textural contrast on a chilly day.



 




Are YOU wearing drop waists this fall?
xo Josie
Thanks to Gap, Piperlime, ASOS, Dorothy Perkins, and Shopbop for the photos.