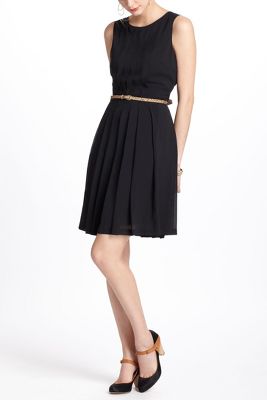 COVETING: HD in Paris Airy Wisp Dress
www.anthropologie.com; $168
It's no secret that I love a little black dress. While I realize that this hardly makes me unique, I will say that my obsession has gone a bit far -- they're slowly overtaking my closet. Regardless, I can always justify the purchase of another thanks to their versatility. This pretty HD in Paris frock would be the perfect addition to my collection. The shape is classic and chic, and the clean pleats and modest neckline would make it appropriate for just about any occasion, from a wedding to a cocktail party to a work event.
I'm convinced that a girl can never have too many pairs of jeans, and the new denim trends that are constantly cropping up always excite me. This fall, I'm loving distressed denim -- but in a way that's quite different from its last appearance in my life ten years ago or so. When it comes to torn-up jeans, I have some pretty specific requirements: it must be well-fitting, cut cleanly, and not so torn up that it looks like my jeans have gone through a paper shredder. The holes can't look too deliberate, and there should be distressing aside from rips and tears so that it all looks natural. These pairs can be dressed up or down easily and are perfect for weekend wear, regardless of your budget.
www.shopbop.com; $216
I'm quite simply obsessed with this pretty-but-tough pair of jeans. I love the size and placement of the holes, and the cut is so clean and chic. The slight paint splatters and whiskering add another dimension to the distressing but don't look sloppy. They'd be perfect with a pair of pointed-toe flats or, even better, dressed up a bit with nude pumps and metallic accessories.
When it comes to boyfriend-style jeans, fit and proportion are key. A pair that isn't perfect has a tendency to look sloppy. This darling Madewell pair seems to be risk-free thanks to its absolute and utter charm. They're faded but not too much, and the rolled cuffs are absolutely perfect. I love them styled with girly flats for fall, but until days cool off a bit, I'm sure they'd pair perfectly with metallic sandals.
If the distressed denim trend makes you a little nervous, this is the perfect pair for you. I love the gray hue -- it's a great versatile neutral but isn't at all boring. The slightly waxy finish is icing on the cake; it adds an element of visual interest and makes a pair of jeans with a hole completely dinner-appropriate, especially when paired with a silky blouse and pumps.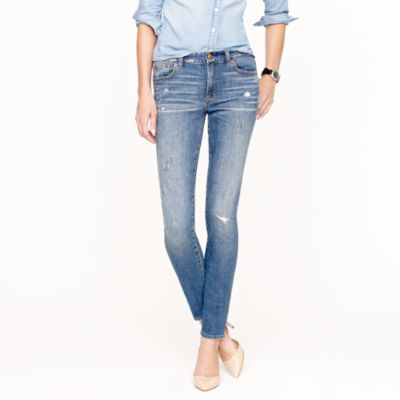 www.jcrew.com; $125
Is there anything that J. Crew can't do well? The brand manages to put its signature preppy spin on this pair of distressed jeans by making them as clean as possible -- a tiny hole at the knee, perfect-but-not-too-intentional distressing, and an ankle length that is absolutely to die for. Brilliant for pairing with your favorite flats and a pair of wayfarers.
Will YOU be wearing distressed denim this fall?
xo Josie
Thanks to Anthropologie, Shopbop, Madewell, Nordstrom, and J. Crew for the photos.