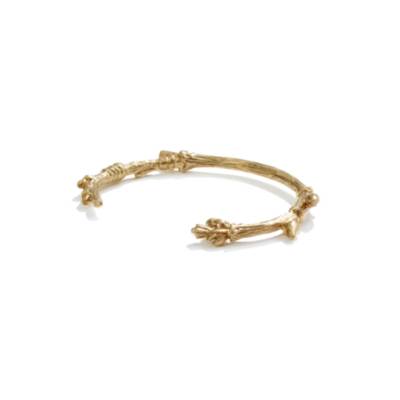 ATTAINABLE: Madewell Tree-Twig Cuff
www.madewell.com; $28
There's something so fall-like about this delicate little Madewell cuff. Maybe it's the intricate branch shape or the perfect twig details -- regardless, I love the ethereal vibe that it gives off. It's so sweet and simple and would be completely charming on its own or darling as part of a stack of pretty gold bracelets.
Dresses for fall can often be tricky -- you don't want to have too much skin exposed, but being too covered-up can feel dull. This year, I'm totally enamored with the collared dress. It's a fun way to wear a pretty frock into fall and add an extra element of detail into your look. With a bit of a preppy vibe, these dresses are perfect to wear on crisp fall days and, best of all, there's one out there to fit every budget.
DEAL: Lulu's Pina Collar-da Cream Dress
www.lulus.com; $43
There's so much about this dress that is just outrageously pretty: the lace, the sweet mini length, the cinched waist, the creamy hue, the demure neckline -- but the bright neon collar works brilliantly to keep it fresh and modern. While the days are still warm, I'd pair this with a pair of rich jewel-toned flats, but as it grows cooler, I think that it would be charming with opaque tights and pumps.
EXTRAVAGANCE: Gryphon Sequin Collar Shirtdress
www.shopbop.com; $485
I am massively obsessed with this darling little shirtdress. The floral print is nothing short of brilliant -- in dark hues, it's so fresh and pretty for fall. I love how light and flirty the chiffon is, and the sequined collar is the absolute icing on the cake. It adds a little extra fun and glitz to an already interesting silhouette that would be perfect with a fabulous pair of booties.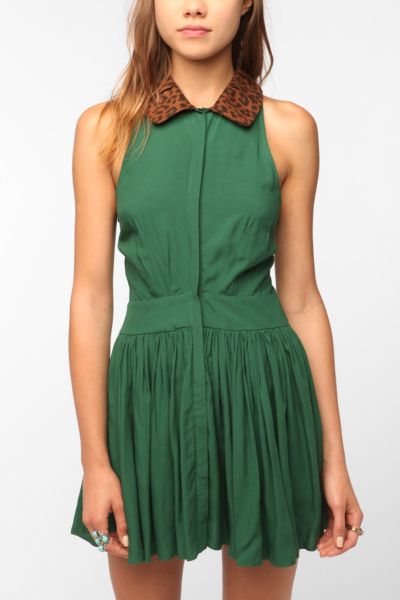 DEAL: DV by Dolce Vita Maureen Leopard Collar Sleeveless Shirtdress
www.urbanoutfitters.com; sale (now) $39.99
Though the bright, fresh green hue is what drew me to this dress right away, the leopard-print collar is what totally sold me on it. It's so fun and unexpected, especially when combined with the short, flirty gathered skirt, hidden buttons, and slightly dropped waistband. The color is pretty and different from the typical fall palette, ensuring that you'll stand out in a crowd of browns and grays.
EXTRAVAGANCE: Only Hearts Sara's Lace Dress with Velvet Collar
www.shopbop.com; $143
Probably my favorite dress of the bunch, this little Only Hearts shift is absolutely darling. I love the easy shape (though it would be so charming belted as well), lace overlay, and, most of all, the velvet collar that keeps the frock from feeling too summery. This would be true perfection with a sweet clutch, opaque tights, and heels in a coordinating shade for endless-looking legs.
Will YOU be wearing collared dresses this fall?
xo Josie
Thanks to Madewell, Lulu's, Shopbop, and Urban Outfitters for the photos.