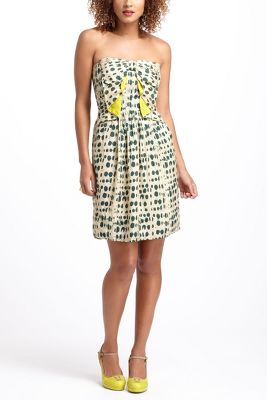 www.anthropologie.com; $198
I admittedly often stick to solids when it comes to investing in a dress. They just feel so timeless and pretty to me. But I can't resist this adorable little Made in Kind frock. The creamy background is gorgeous, and the green print is simply to die for. I'm a big fan of the subtle bow detailing at the top and the punch of yellow in the bodice is nothing short of brilliant. Best of all, the classic shape makes me feel like it will last a lifetime despite its less-than-conventional pattern.
Some items are just absolute necessities when a new season is on the horizon. With fall shopping to be done, my mind is totally stuck in autumn. I'm particularly enamored right now with shoes for the season; there are so many pretty shapes and rich textures that I can hardly decide what's needed for fall. I've created a simple visual guide that combines several autumn standby shoes (classic riding boots, the ever-important rainboot) with several of my favorite trends for fall (loafers, embellished heels, simple pull-on booties, and much, much more).
What footwear trends are exciting YOU for fall?
xo Josie
Thanks to Anthropologie and Cupcakes and Cashmere for the photos.