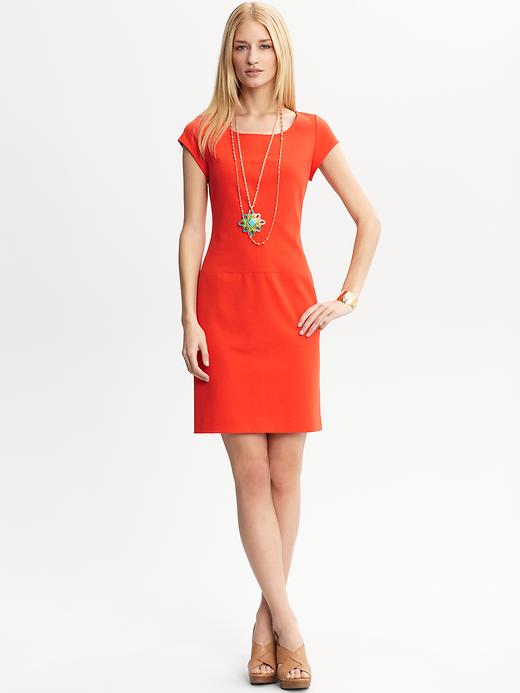 ATTAINABLE: Banana Republic Cap Sleeve Ponte Knit Dress in Lava (also in True Navy)
www.bananarepublic.com; $98
I'm admittedly a sucker for a great marketing technique, and the Banana Republic windows that I pass on Fifth Avenue every morning have certainly caught my attention. The day-to-night concept is nothing new, but the brand's styling of it for fall is perfection. I love this bright orange dress, with its cap sleeves and perfect details. When paired with nude pumps and a chic blazer, it's completely office-appropriate, but a quick change to metallic accessories takes it straight into evening effortlessly.
There are a lot of things to love about England: the accents are fantastic, the red phone booths adorable, Topshop, Kate Middleton, James Bond... And now I can add Three Floor to the list of things that I adore about Britain. Based in London, this brand just launched in 2011 and is rising to the top of the fashion scene very, very quickly. Specializing in bright dresses and flirty, feminine cuts, I can only hope that this fun contemporary brand sticks around for awhile.
Three Floor Swoon Scallop Dress
www.asos.com; sale (now) $90.31
I love the pretty contrast between this blush-colored skirt and the creamy halter-style stop. The textural contrast is just as fabulous: the scalloped bib is simply to die for, while the wide ruffle at the bottom of the dress is perfectly feminine and so chic for summer. How sweet would this be with a pair of flat gold sandals?
Three Floor Flare Dress
www.shopbop.com; $165
It doesn't get much more summery than bright yellow, and this dress is just so fun and chic. I love the simple shape, but the ruffled hem adds such a level of dimension. Whether worn as a sheath or belted at the waist, this frock is sure to draw all eyes straight to the wearer.
www.shopbop.com; $306
It simply does not get more ladylike than a belted waist, deep V-neck, a tea length, and hundreds of pretty pleats. I love this chic frock with its interesting back and demure shape, both of which make it perfect for a wedding or other warm-weather event. And the bold coral shade? Simply a bonus.
www.shopbop.com; $282
I can never resist a super-sweet dress, and this one fits the bill perfectly. The Peter Pan-style collar is simply to die for, while the signature bottom ruffle only adds to the dress' charm. Darling with flats or killer with heels, this dress is short but the perfect neckline helps it stop short of being too much -- brilliant.
What are YOU obsessed with right now?
xo Josie
Thanks to Banana Republic, ASOS, and Shopbop for the photos.