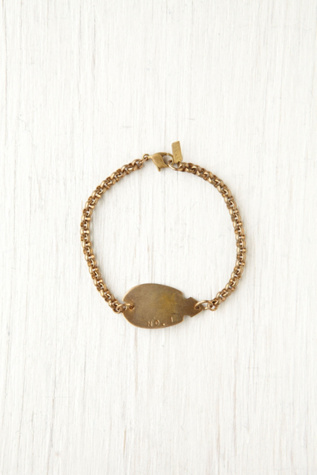 COVETING:
Nikki Montoya Thin Chain Arrowhead ID Bracelet
www.freepeople.com; $100
I remember once reading a story in a magazine about a designer who inherited her grandfather's ID chain bracelet wearing it every day. For those of us who haven't been so lucky as to gain a precious family heirloom, this pretty vintage-looking bracelet will suffice. I love the slightly tarnished gold and hammered metal plate -- it would make the perfect simple, single addition to any look or as part of a stack of pretty jewelry.
There's something about warm, sunny days that makes me desperately want to grab my favorite aviators, turn up my iPod, and jump in my car. I'm plagued by a sudden sense of wanderlust when summer starts to drag on, and I think that only a road trip can cure it. There's a sense in adventure in just getting in a car and DRIVING until you get somewhere fabulous. Easy boyfriend jeans, soft tees, cutoffs, and simple jewelry seem like the components of a perfect uniform for a good time -- and good friends, roadside food stops, and great tunes are not optional.
What's inspiring YOU today?
xo Josie
Thanks to Free People and Inspired Design for the photos.