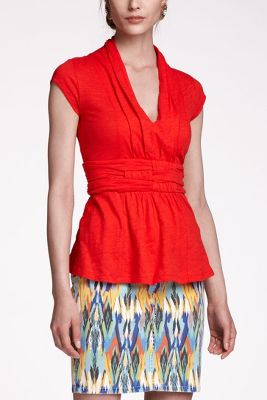 www.anthropologie.com; $48
There's little not to love about this top: the shape is fun, the silhouette is unbelievably flattering, it comes in an array of summery colors, and it's versatile enough to pair with just about anything in your closet, from printed pencil skirts to skinny jeans. I love the slight volume at the bottom (a peplum for those of us who are scared of them) and the perfect waist detail. Combined with the deep V neckline, it creates a shape that is definitely universally flattering and perfect for a sunny summer day.
I love discovering new fashion lines and little shops; thus, living in New York has been ideal for me. I stumbled across
Whisk
while on a Fourth of July stroll and fell in love immediately -- I think I've been back three times since. It's the sweetest little Brooklyn-based cooking store that just opened its Manhattan location on Broadway, and I'm truly obsessed. The entire shop is so bright and cheery, filled with pretty silverware, colorful KitchenAid mixers, and edible glitter. The window displays are incredibly colorful and totally draw you into the shop, but it's the reasonable prices that keep you there and tempt you to purchase everything there. It inspires me to get into my kitchen to create something immediately, and that's exactly what I think a great cooking store should do. The shop is entirely too close to my apartment for me to be safe, but lucky for us all, we can shop Whisk online -- a fantastic way to fill your cravings for cookware no matter where you are.
www.whisknyc.com; $24
I'm a sucker for a great casserole dish, and this one is perfect -- if only because it's the perfect size for not only layering a lasagna or roasting chicken breasts but could easily double as a pan for crisps, crumbles, bars, and cakes. And at $24 for such a pretty, durable piece of bakeware, I think it would be nearly impossible to pass up.
www.whisknyc.com; $7
When it comes to making tarts, as far as I'm concerned, a pan with a removable bottom is an absolute must. It makes keeping a tart's perfect shape and delicate infinitely easier to deal with. By using one of these, I'm convinced that I could make
this
without going completely insane, and at this price, I think I should pick up two.
www.whisknyc.com; $125
If there's one thing at the tippy-top of my kitchen wishlist these days, it's most definitely a food processor. After hand-grating twenty ounces of cheese to make
this
(totally worth it), I'm convinced that it's time to invest. This one has killer reviews and would look sleek on any kitchen counter -- plus, I'd definitely feel like Ina Garten when I used it, which is always a bonus when you're in the kitchen, as far as I'm concerned.
www.whisknyc.com; $30
Once you've completed a perfectly pretty cake, is there really any better way to show it off than on a gorgeous, elegant cake stand? I think not. While Whisk has a large selection of pretty vintage-esque ones in-store, I love this little pink one as well. Such a great platform to show off a bit of your creativity -- and it inspires me to make something equally gorgeous. I think that
this
would be appropriate.
What fabulous places have YOU stumbled across lately?
xo Josie
Thanks to Anthropologie and Whisk for the photos.