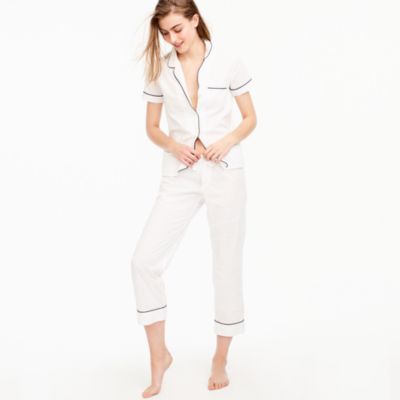 ATTAINABLE: J. Crew Vintage Short-Sleeve Pajama Set in White (also in Navy and Hydrangea)
www.jcrew.com; $78
There's something about crisp cotton pajamas that just can't be beat when the weather turns warm. They just feel so classic and cool and are, of course, insanely comfortable. This little J. Crew set is vintage-inspired and it's no exaggeration to say that I'm totally enamored by them. The dark piping is true perfection, and I love the pocket and fun button-down style. I'm having sweet dreams already.
Come summertime, Trina Turk embodies everything that I love about the season. Her pieces are consistently chic, bright, and breezy. I'm thrilled that her capsule line for Banana Republic is in fitting with these trends -- it's a beautiful marriage of her aesthetic and Banana Republic's sophisticated, tailored look. How perfectly pretty to wear everywhere this summer, from the office to cocktail parties.
Trina Turk Pisces Strapless Dress
www.bananarepublic.com; $150
This is the perfect day-to-night frock. It would be perfectly office-appropriate with a cardigan or well-fitted jacket and pair of pumps, but strappy sandals would dress it up beautifully for evening. It's simply crying out for a chic updo, bright clutch, and a pair of killer dangling earrings.
Trina Turk Short-Sleeve Safari Jacket
www.bananarepublic.com; $110
I'm always a proponent of a jacket with a cinched waist, but let's face it -- summer gets HOT. This charming little short-sleeved jacket is the perfect solution. I love the safari inspiration and how fantastic the details are -- from the clean cuffed sleeves to the patch pockets and tortoiseshell buckle, there are so many little things about this top that make it special.
Trina Turk Bright Print Enamel Bangle
www.bananarepublic.com; $45
A simple way to incorporate summer brights into any look is through accessories. When it comes to colored jewelry, I tend to lean towards enamel. It's a fabulous way to add a shot of fun to an outfit without worrying about it being inappropriate or overkill, and enamel keeps the look sophisticated rather than embodying some version of five-year-old chic.
Trina Turk Silk One-Shoulder Dress
www.bananarepublic.com; $130
Sometimes, you just have to go for it when it comes to color. This dress would let you do it easily. I think that one-shoulder dresses are such a fun silhouette for summer, and the tie on this one is particularly whimsical. The electric teal shade is a fab backdrop for an armful of gold jewelry and nude sandals to create a look that's as simply chic as it gets.
What are YOU obsessed with right now?
xo Josie
Thanks to J. Crew and Banana Republic for the photos.