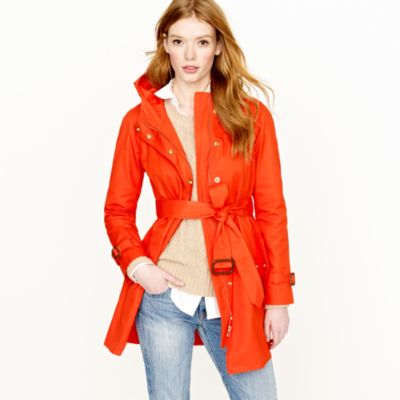 www.jcrew.com; $178
Living in a city with weather that's outrageously unpredictable has taught me a lot about dressing appropriately. And the biggest lesson I've learned? After a particularly embarrassing experience with a day that turned suddenly from 80 and sunny into a thunderstorming mess, I discovered that light layers are key -- lightweight, waterproof coats are the best. I'm obsessed with this bright J. Crew trench. The color is killer, the classic shape is flattering, and I love that it has a hood. Perfect for getting me through the worst of rainstorms.
As the humidity index rises slowly, I've started noticing some less-than-attractive changes in my hair -- it doesn't hold straightening as well, and the frizz is slowly seeping in. In my
recent attempt
to shake up my hairstyles, my favorite solution right now is pretty braids. From loose fishtails to Lauren Conrad-style bang-braids, these keep my locks under control and look totally effortless -- perfect for warm, breezy days.
{braid hidden within a braid via}