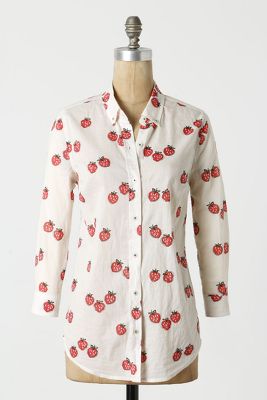 ATTAINABLE:
HD Hanalei Buttondown, Strawberries
www.anthropologie.com; $78
Fresh produce easily tops my list of all-time favorite things about spring -- right along with pretty, crisp blouses. And this top combines the two beautifully. It's a simple white shirt in a classic shape, and the layering possibilities are nothing short of endless. It would be so sweet under a V or crew-neck sweater but is equally charming on its own when paired with boyfriend jeans. What a perfect boy-meets-girl look for spring.
While I love looking at pretty hairstyles, I have to admit that my daily M.O. is pretty basic: blow dry, flat iron, and go. Something about the cherry blossoms and warm breezes, however, has inspired me, and I think it's time to switch things up a bit. I've been particularly drawn to pretty ponytails lately. Whether a braided element is added or a lock of hair is simply wrapped around the base for a more polished look, these styles have a sophistication to them that I'm particularly drawn to without taking me too far out of my comfort zone.
{twisted and teased pony
via
}
{perfectly curled side pony
via
}
{straight and just-messy-enough ponytail
via
}
{outrageously easy knotted side pony
via
}