COVETING:
Shoshanna Frannie Striped Strapless Dress
www.shopbop.com; $340
When it comes to pretty spring dresses, I always know that I can count on Shoshanna. This frock is nothing short of fabulous. The bodice is perfectly tailored, and I love that the skirt is slightly gathered. The pattern on the top is absolutely brilliant -- I love how it contrasts slightly with the print on the skirt without deviating too much. Perfect to pair with nude sandals for a look that's fantastically long and lean.
I love the idea of printed denim, I really do. I think that it's fun and whimsical and perfect for spring. But when it comes to actually pulling it off, I just don't know if I can do it. Luckily, the trend is hot -- and there are plenty of bold choices, but lots of subtler options for those of us who are a little bit nervous about embracing the look fully.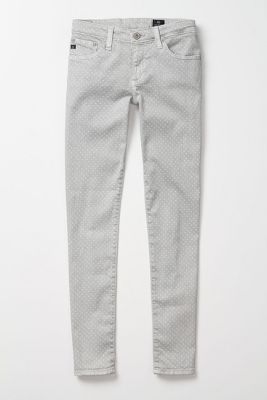 EXTRAVAGANCE:
AG Polka Dot Ankle Stevie in Gray Pin Dot
www.anthropologie.com; $178
For the print shy, these skinnies are utter perfection. The tiny polka dots are as subtle as it gets, and the gray tones the print down perfectly. Similar to a Glen plaid, from a distance, this print is barely discernible. Perfect to pair with a bright cardigan or crisp button-down for a fun, easy day look.
DEAL:
Forever21 Ditsy Floral Skinnies with Belt in Rust (also in Camel)
www.forever21.com; $27.80
These adorable skinnies combine two of my favorite spring trends: colored denim and a fun print. The little flowers are charming, and the color is true perfection. They'd be so chic with a pair of neutral flats or desert boots, and at this price, there's simply no reason to turn them down.
EXTRAVAGANCE:
J Brand Houndstooth Skinny Jeans
www.shopbop.com; $229
It doesn't get any springier than white denim -- and the tan houndstooth print on this pair of skinnies takes them to another level entirely. I love how incredibly chic these are; they'd pair as easily with a pair of pumps as with a charming pair of flat metallic sandals.
DEAL:
Insight Low Rider Slouch Shorts
www.threadsence.com; $74
Another fun way to take on this trend is in shorts. They're fun and whimsical and with less space printed, feel less overwhelming than a full pair of pants. This Insight pair is charming, with soft colors and an easy shape. They'd be the perfect accompaniment to a silky tank in a bold color or simple cotton blouse.
Are YOU wearing printed denim this spring?
xo Josie
Thanks to Shopbop, Anthropologie, Forever21, and Threadsence for the photos.