COVETING:
House of Harlow Antler Wrap Ring in Gold
www.revolveclothing.com; $75
I think that little touches of holiday cheer can be so fun. Holiday-themed jewelry tends to look kitschy, but the
House of Harlow antler collection
is so beautiful. Quality pieces that just suggest facets of the holiday season -- like elegant representations of reindeer antlers -- are so beautiful and festive without being too sparkly and covered in red-and-green jewels. This pretty gold ring is versatile and would be perfect to wear every single day to add a punch of holiday fun to any look.
As much as I love subtle holiday details, there's still something to be said for putting your seasonal spirit on display. As finals approach, I'm coming to appreciate every ounce of cheer that I can handle, and I think that holiday sweaters are such a fun way to show it off. I'm not talking about the dozens of gaudy Christmas sweaters on display at Goodwill (as much as I ADORE those); I'm thinking tops that are a little more subtle but are still all kinds of holiday fun.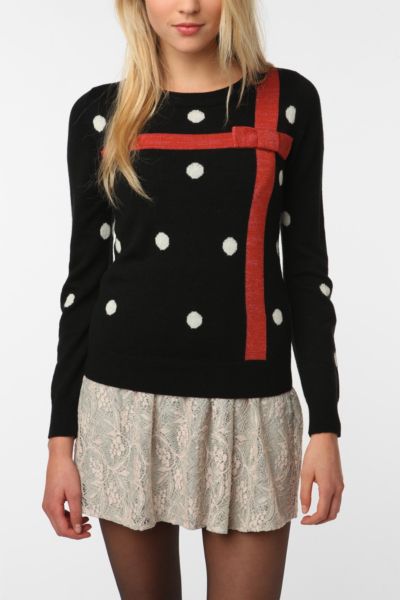 PJ by Peter Jensen Polka Dot Bow Sweater
www.urbanoutfitters.com; $79
How sweet is this little sweater from Urban Outfitters? I love how it's styled here, with a pretty, sparkly lace skirt. Of course, it would be equally darling with a pair of dark jeans and boots. Perfect for a casual holiday gathering.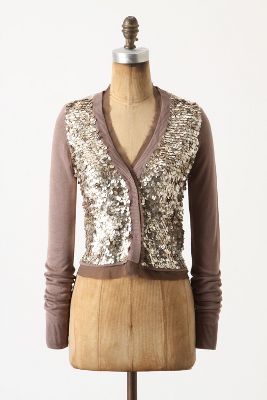 John and Jenn Alpheratz Sweater
www.anthropologie.com; $178
I'm more than a little in love with this adorable sweater from Anthropologie. I love the colors -- a fun alternative to red and green -- and the fantastic sparkled bodice. The pailettes are perfect, and I'm a serious sucker for the amazing chiffon trim. How amazing would this be with a simple black pencil skirt or pair of camel-colored trousers?
Grey Antics Holiday Headline Sweater
www.urbanoutfitters.com; $89
How clever is this fun Urban Outfitters sweater? I'm obsessed with the idea of pairing it with bright, bold colors -- like the yellow pants above or bright cords (like
these
). I'd definitely smile if I saw someone out Christmas shopping in this... Or I'd be thrilled to wear it decorating a tree.
Are YOU wearing a cute holiday sweater this season?
xo Josie
Thanks to RevolveClothing, Urban Outfitters, Anthropologie, and Shopbop for the photos.