ATTAINABLE:
Ark & Co. Pleated Tube Mini Dress
www.alainnbella.com; retail $56
How could I help but let this pretty little strapless dress steal my heart? I think it's the color that really does it for me: it's such a pretty steely purple shade. Between that and the pleating detail at the neckline, I was a goner. I love that this will work now and in the winter with a great pair of textured tights, but it would be adorable with bare legs and wedges come spring.
Though I love the way that they look, I simply don't wear scarves as often as I'd like. It's just not something that I think about on a regular basis. However, come winter, I can nearly always be found with a warm scarf tied around my neck. While I love the different ways that other girls tie their scarves, I can never quite seem to figure it out -- so snoods and eternity scarves make my life that much easier. This year, I'm loving big, chunky knits and pretty patterns to pair with the most basic of my wool coats.
Vince Cashmere Infinity Scarf in Avocado (also in Heather Wheat)
www.shopbop.com; retail $225
Vince always makes the absolute softest knitwear pieces. This scarf is, I'm sure, no exception. How can you possibly go wrong with cashmere, after all? So pretty and so very, very warm. The avocado green shade is fantastic and so versatile, though I love the other color as well.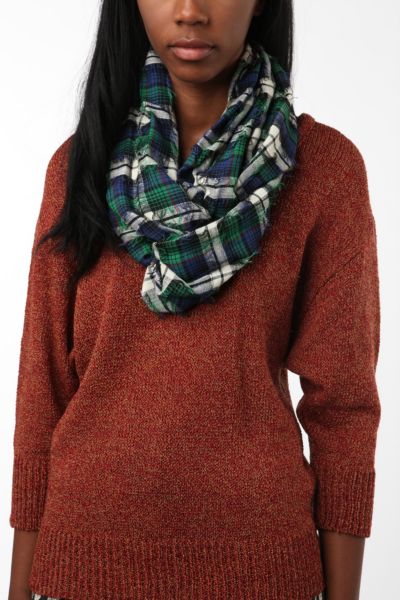 Urban Outfitters Tartan Eternity Scarf
www.urbanoutfitters.com; retail $24
I adore plaid, and this sweet little scarf is such a great representation of it. I really love the colors; they're perfect together and the green adds just a touch of festive flair. The single side of exposed fringe is such a great detail, adding a little extra texture and visual interest. How great would it be with a classic trench?
Madewell First Frost Circle Scarf in Cottage Green (also in Lantern Red, Vintage Lace, and Hthr Smoke)
www.madewell.com; retail $58.00
This is just what I've been craving: a warm, chunky knit that comes in a variety of colors, each of which is fantastically versatile without being dull at all. The simple cowl shape is beautiful and I love that I could just slip it over my head and go.
AEO Nordic Loop Scarf
www.ae.com; retail $29.50
As the weather grows colder and I begin to crave Starbucks drinks in red cups, my obsession with Fair Isle prints is getting a little out of control. I've fallen head-over-heels for this pretty black-and-white scarf from American Eagle. It's a great length and, naturally, the print is my favorite part.
How are YOU wearing scarves this winter?
xo Josie
Thanks to Alainn Bella, Shopbop, Urban Outfitters, Madewell, and American Eagle for the photos.