ATTAINABLE:
Old Navy Women's Fair Isle Fingerless Gloves
www.oldnavy.com; $10
I completely understand that fingerless gloves are possibly the least practical purchase for a Midwest girl to make. They're thin and hardly do a thing to keep your hands warm. But they're just. So. Cute. And practical, as far as I'm concerned -- how am I supposed to check my e-mail as I stroll down the quad if I have to keep taking a pair of real gloves on and off? These adorable Old Navy ones are not only Fair Isle (my favorite winter print) but have the tiniest row of sequins and just enough sparkle to keep me cheery through gray winter days.
I've never been one for corduroy. Perhaps it speaks to my insecurities, but adding bulk to my lower body has never been something I'm interested in. However, I'm totally enamored by the fabric for pants this season. Skinny, wide-leg, boot-cut -- you name it. Colored, neutral. I love it all and think that they're such a fabulous alternative to jeans when pants truly become the only option to keep from freezing to death.
DEAL:
Gap 1969 Skinny Boot Corduroy Pants in Dried Berry (also in Milk Chocolate, Hematite, and Camel)
www.gap.com; sale (now) $59.46
Whenever I'm looking for pretty, well-done classics, I head straight to Gap. The 1969 collection is fun and chic, and I love these colored cords. In a simple boot-cut, they're sure to flatter, and I adore the purple shade -- though the milk chocolate brown ones are a close second. Perfect to pair with wedge booties.
EXTRAVAGANCE:
Citizens of Humanity Avedon Skinny Corduroy Pants in Whiskey (also in India Ink and Bone)
www.shopbop.com; $189
It doesn't get much more sleek or chic than a pair of skinny neutral cords. These Citizens are about as perfect as it gets in my book. They're a fantastic everyday alternative to jeans and the thin cord is flattering. Perfect to pair with knee-high riding boots or sweet little loafers and a fantastic cardigan.
DEAL:
J. Crew Vintage Matchstick Cord in Vintage Violet (also in a variety of shades)
www.jcrew.com; $79.50
Neutral is good. Neutral is classic and versatile and simple and pretty and chic. But then you have these. And all of my senses of practicality fly out the window. I'm quite simply addicted to the idea of a pair of very bright matchstick cords, rolled at the ankle with a pair of sky-high heels and a sparkly top for evening. Pretty and warm? I'm in.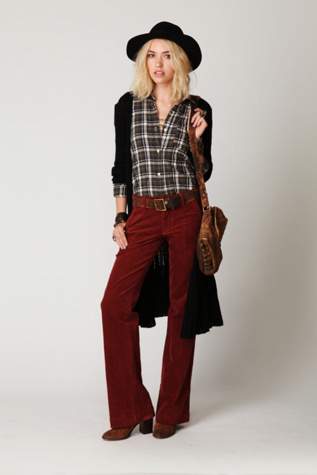 EXTRAVAGANCE:
Genetic Farrah Wideleg Cords
www.freepeople.com; $248
Corduroy already has a mildly '70s vibe to me, and when you throw in this perfect wide-leg shape and big patch pockets, you have a perfect recipe for a fun winter look. I love the deep, wine-y red shade of this pair and am truly obsessed with the shape. Perfect to tuck in a button-down for a sleek silhouette.
How are YOU wearing corduroys this season?
xo Josie
Thanks to Old Navy, Gap, Shopbop, J. Crew, and Free People for the photos.