ATTAINABLE: Old Navy Women's Faux-Leather Thong Sandals in Tortoise
www.oldnavy.com; retail $10.50
It's times like this when I really, really love Old Navy. And I say it without shame. I purchased these inexpensive but super cute sandals in every metallic shade they sold last year and absolutely LIVED in them. So when I popped into Old Navy on a whim the other day, I couldn't resist purchasing a pair in this fun tortoise print. How fantastic will these be with denim shirts and crisp blouses for summer? I can't wait to pick up EVERY color.
Some trends stay in style forever. And the pretty floral dress for spring is most certainly one of those. So regardless of the fact that I did the same post last year (
here
), I'm completely confident that it's still relevant. There's nothing like slipping into a bright, cheerily printed sundress when the weather finally starts to warm up and sliding on a pair of wedges to match. Perfect for moving from errands to dinner seamlessly.
DEAL: Forever21 Silk Floral Contrast Dress
www.forever21.com; retail $22.80
I love contrast dresses -- I think they have such a clean, chic look. And this one is so elegant. I love the subtle watercolor print of the skirt, and the bright magenta flowers are so punchy. The colors pair perfectly with the more subdued navy top, but the ruffle manages to spice up the bodice without feeling contrived in the slightest.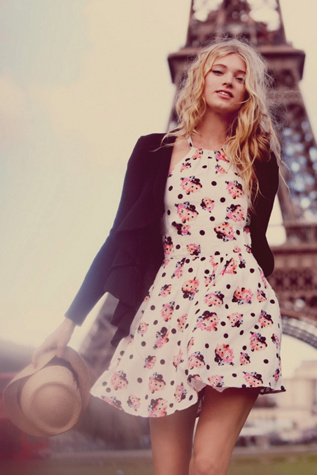 EXTRAVAGANCE: Free People Parisian Bouquets Halter Dress
www.freepeople.com; retail $128
I need this dress. Immediately. It's no secret that I'm a sucker for marketing techniques, but this is just ridiculous. The name, combined with the adorable fedora and perfectly-captured movement in this photo, is all I need to sell me on this charming little frock. Best of all, though, is the ladylike neckline and the crossover back -- the perfect surprise when you slip out of your cardigan to let the sun warm your shoulders.
DEAL: Threadsence The One After the Other Floral Dresses
www.threadsence.com; retail $42
How floaty and lightweight does this dress look? I love its utter simplicity. The colors are bright and fun, the shape is flirty, and the print is splashy. It's just right for adding bold, pretty accessories -- I'm thinking chunky wood bangles, an oversized patent leather clutch, and a chic pair of nude wedges.
EXTRAVAGANCE: Parker Strapless Dress
www.shopbop.com; retail $242
The dressiest of the bunch, this dark floral strapless Parker dress is nothing if not sophisticated. I'm kind of obsessed with the darting at the waist and perfect sweetheart neckline... How amazing would it look with a sweet side braid and a pair of tall, tall heels for evening?
For more pretty dresses, I've done a guest post over at
Sweet Tea and Champagne
-- be sure to check it out!
xo Josie
Thanks to Old Navy, Forever21, Free People, Threadsence, and Shopbop for the photos.