ATTAINABLE: ThreadSence Classic Lace Dress
www.threadsence.com; retail $42
ThreadSence is officially my new obsession. I owe an epic, EPIC thank-you to my friend at
The Owl's Closet
for introducing me to this site, which features the prettiest, most affordable clothes I've ever seen. This dress is sold out. I'm not okay with that in the slightest. Because, hello, this is possibly the greatest lace dress I've seen all season. AND it's affordable. Oh, ThreadSence, how you tease me. I'll be watching the site like a hawk because this dress is truly perfection -- the 3/4-length sleeves and lace overlay are gorgeous, the neckline is demure, and the back is daring -- I LOVE IT.
I am due for a new winter coat. There's just no denying it. I live in the Midwest. I trek multiple miles each day around campus. And I haven't bought a new coat since my sophomore year in high school. Granted, it's a great coat --
this one
in a gorgeous shade of camel -- and is the best all-purpose one that I could ever find. However, I find myself in need of an entire outerwear wardrobe these days. And each of the below coats would most certainly have its place in that lineup.
Rebecca Taylor Belted Ruffle Coat
www.shopbop.com; retail $595
So. Precious. I'm slightly distracted from the coat by these gorgeous boots, but the coat certainly would steal the show with any look. The ruffled placket is absolutely stunning, and the robe-tie is utter perfection. Although I'm sure that I'd manage to spill my skinny vanilla latte all over this pristine white coat approximately four minutes after slipping into it, I really don't know if that would deter me from wearing it at every possible occasion.
Lulu's Finding Frances Blush Jacket
www.lulus.com; retail $75
I absolutely adore this little vintage-inspired jacket. The swingy shape and wide-lapeled neckline are so gorgeous, and I'm loving the pale blush shade for winter. It's so fresh and unexpected. This coat would dress up or down so nicely, making it ideal for all-purpose wear.
Theory Atlas Ivanna Down Puffer Jacket
www.bloomingdales.com; retail $575
I'm not big on puffer jackets for several reasons. One is that they tend to have fur or faux-fur-lined hoods, which I'm not personally a fan of, at least not on myself. Another reason is that they tend to be ridiculously bulky. This gorgeous Theory coat combats both of those problems with amazing grace, in a stunning shade to boot. I adore the fitted silhouette, short length, and the stand-up collar. Finally, this color is blowing my mind. So fantastic as an unexpected wintery shade.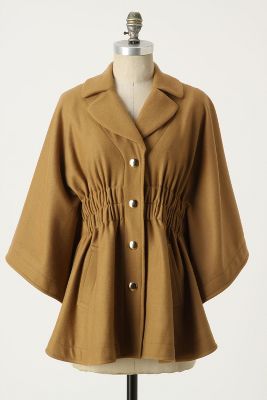 Anthropologie Double Duty Cape
www.anthropologie.com; retail $248
How sweet is this swingy little cape/coat? The sleeves are reminiscent of a cape but I love the cinched waist and lapels -- so chic. The color is ridiculously versatile, and I absolutely adore the buttons. Best of all, this cape would be fantastic with skinny jeans and boots or over a dress -- genius.
How will YOU be staying warm this winter?
xo Josie
Thanks to ThreadSence, Shopbop, Lulu's, Bloomingdale's, and Anthropologie for the photos.